From Adriano Manocchia's Studio: Summer in the Adirondacks
Summer has truly struggled this year to reach this part of the country, but now it's finally here, and not a moment too soon… Time to lace up our hiking boots and start again exploring the Adirondack's wilderness.
I feel that one of the most picturesque scenes one can find in these mountains is the familiar groves of white birch that dot the landscape. These groves are so characteristic of this area that they have become symbolic. I'm fascinated by how the white irregular bark of these slender trunks contrast with the dark background of the forest's undergrowth. When the light finds its way through the dense foliage and reaches the trees, the brightness of the bark is breathtaking… I often welcome the challenge of transposing that magical quality into my paintings, focusing more often than not just on the characteristic bark with its textures and colors leaving the foliage to the imagination.
This painting titled Summer Birch is the latest creation in a series of paintings on white birch. I was particularly taken by the way the sinuous curves of the tree trunks give movement to this image, softening an otherwise austere setting. This oil on panel  measures 14″x18″ and comes framed in a custom made gold frame.
As customary this painting will remain available to my special clients on a first come basis. It can also be viewed at www.adriano-art.com/?availableart along with other available art. If you have any questions or would like to acquire artwork feel free to contact Teresa at 518-677-5857 or by e-mail at teresa@tsmandco.com
If our paths cross while hiking the Adirondacks this Summer, I hope you'll stop and chat awhile. I can guarantee I'll be there.
In the meantime enjoy Summer…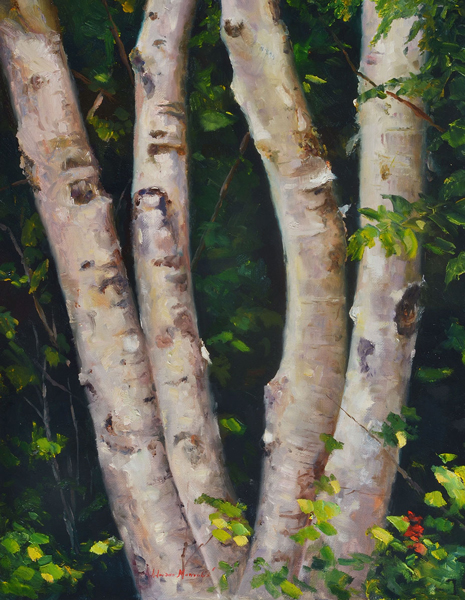 This and other available paintings can be viewed by visiting the following page on my website www.adriano-art.com/?availableart
For information please contact:
Teresa Manocchia
87 White Creek Shunpike Road
Cambridge, NY 12816
Tel: 518-677-5857
teresa@tsmandco.com
http://www.adriano-art.com