With the Holidays in full swing, the quiet days of Winter are still a while away. How is your shopping list progressing? Made a dent in it yet? Here at my house, we have made the resolution that only meaningful gifts be exchanged this year, something that will last past the latest craze. Finding this right gift is not that simple. It requires thought and insight into what the gift's recipient would truly appreciate. Art is always my first choice, and that is no wonder. I also cherish books, the signed or first editions classics, tailored to the taste of the person I'm buying them for. I was pleasantly surprised that many of you share this passion. Several copies of my limited edition book Water, Sky & Time, were in fact purchased by customers as a special gift for a particular family member or friend. That is also what I was happy to experience on an event this past weekend at BJS Artwork Gallery in Glens Falls, NY. Just before the event, I had the pleasure of meeting with Doug Gruse, a writer from the Post Star, a newspaper that covers our area of upstate New York. Doug wrote a very thoughtful and interesting article published a few days before the book signing at the gallery. If you would like to read the article in its entirety online please follow this link:
http://poststar.com/lifestyles/artist-marks-years-with-book-exhibit/article_2e7c2eae-53a9-11e3-bc23-001a4bcf887a.html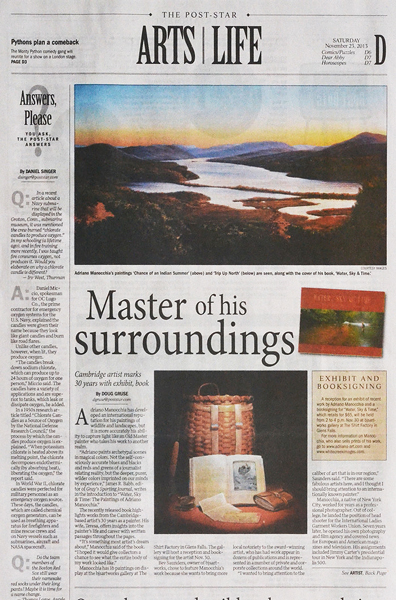 For those of you who are still searching for that very special gift for a loved one, I wanted to show you a painting I've just now completed. It is titled Morning Intruder and was inspired by a familiar scene of country life. I have observed time and again the more powerful hawk chased by crows or crackles that join forces against the intruder that has ventured in their territory. It is so true that unity makes strength. This oil on panel measures 13″x18″ and comes framed in a custom made frame.
This painting can also be viewed at www.adriano-art.com/?availableart along with other available art. If you have any questions or would like to acquire artwork feel free to contact Teresa at 518-677-5857 or by e-mail at teresa@tsmandco.com
May your Holidays be peaceful and serene.
Adriano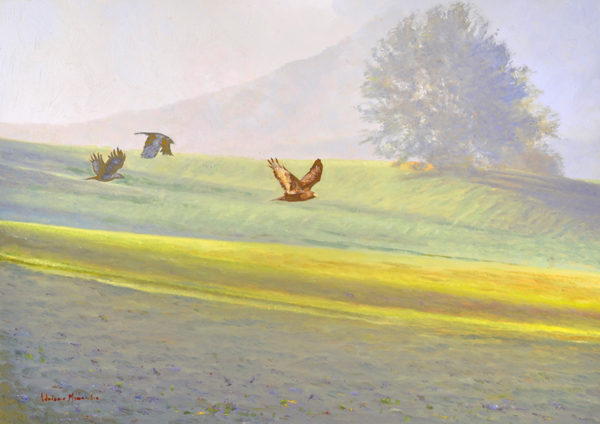 This and other available paintings can be viewed by visiting the following page on my website www.adriano-art.com/?availableart
For information please contact:
Teresa Manocchia
87 White Creek Shunpike Road
Cambridge, NY 12816
Tel: 518-677-5857
info@adriano-art.com
http://www.adriano-art.com